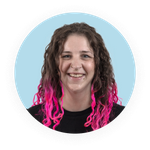 Updated by Julia Walther
In this article we will explain everything you need to know about fonts in e-mails.
In the world of emailing, there are two types of fonts:
Web-Safe Fonts
Web-Safe Fonts are standard fonts that can be found on most operating systems. These include, for example, 'Arial', 'Times New Roman', 'Verdana' and 'Georgia'.
Webfonts
Web fonts, on the other hand, are not among the available standard fonts. The best-known web fonts are 'Open Sans' and 'Roboto', both are Google Fonts web fonts.
Depending on the email template, a web font is used for the emails that you can send via Sweap. Since web fonts are not available on every operating system, a number of substitute fonts (fallback fonts) have been set up. This ensures that your email can be displayed even if the web font we use is not available on your recipient's operating system.
This means no effort for your recipient or you. The use of a fallback font is done automatically by the recipient's email client if necessary. Your recipient's email client checks if it can match the first choice of font used, if not, it chooses the next font from the fallback fonts list.
Fonts by template
LA LUNA
This email template uses the 'Open Sans' web font.
We have stored 'Helvetica' and 'Arial' as fallback fonts for you. If these two standard fonts are not available on your recipient's operating system: No problem. In this case, the command 'sans-serif' is used - the email client of the recipient now uses any standard font without serif.
We store the 'Open Sans' font on our own servers. Google does not get any information that we use it.
Classic, Modern, Simple
We do not use web fonts for these email templates - web safe fonts are used for these templates. The primary font used here is 'Helvetica'.
To make sure that an optimal layout can be guaranteed, there is also a fallback font list for these templates. 'Arial' is stored as fallback font. If 'Arial' is not available, the system falls back to the 'sans-serif' command and selects any standard font without serif.
Since the display of the email depends on the email client and the operating system of your recipient, unfortunately no hundred percent guarantee of the desired layout can be given.
To get an idea of how your email might look to the recipient, test the reception of your email with different email clients.
Many email clients have smart technologies built in, which ensure that elements are set as links so that actions can be triggered via them. This is the case, for example, with date and time information - here, the email client generates a link to display and save the appointment. This also applies to address information.