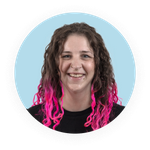 Updated by Julia Walther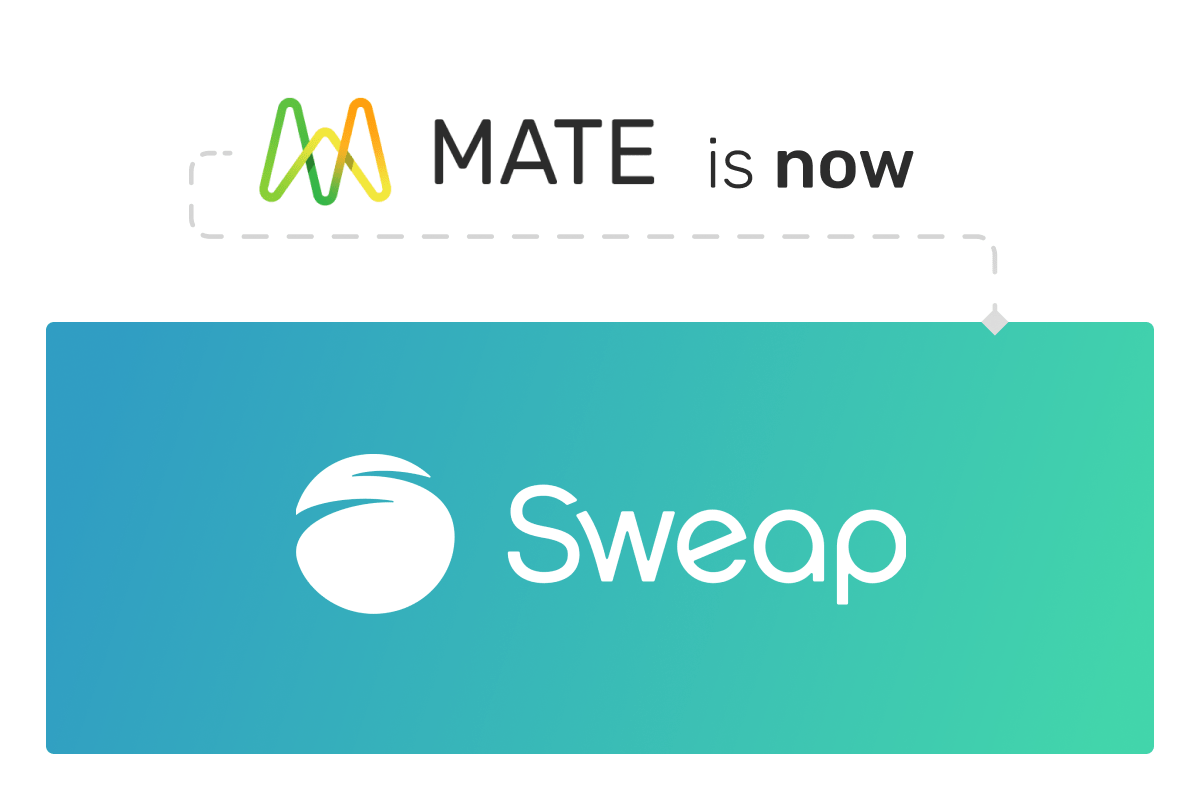 We are very happy to introduce Sweap to you. We hope you like Sweap!
New name, new design and new features! We are starting a new era. MATE is now Sweap and with it we unite events, elegance and efficiency. With our new Event Efficiency Platform, we want to help you and your team get the most out of your events. It's just the beginning and you can expect many more exciting features. Now we would like to introduce you to what is already new today.
New menu navigation of Sweap
We have put a lot of thought into this and have once again redesigned the homepage. The previous menu is now much slimmer and contains only the menu items you need every day. In addition, the new icons help you to keep the overview in the menu. From now on you can find your user settings under the Sweap green icon in the upper right corner. Upload your profile picture there and the icon will magically change. In addition, we have consolidated the administrative settings, such as users and roles, and moved them to the account settings.
The Virtual Event Platform now has its own category -> Virtual Platform.
By the way: Email addresses, so your overview of all emails and opt-in status is now called "Opt in & Bounces".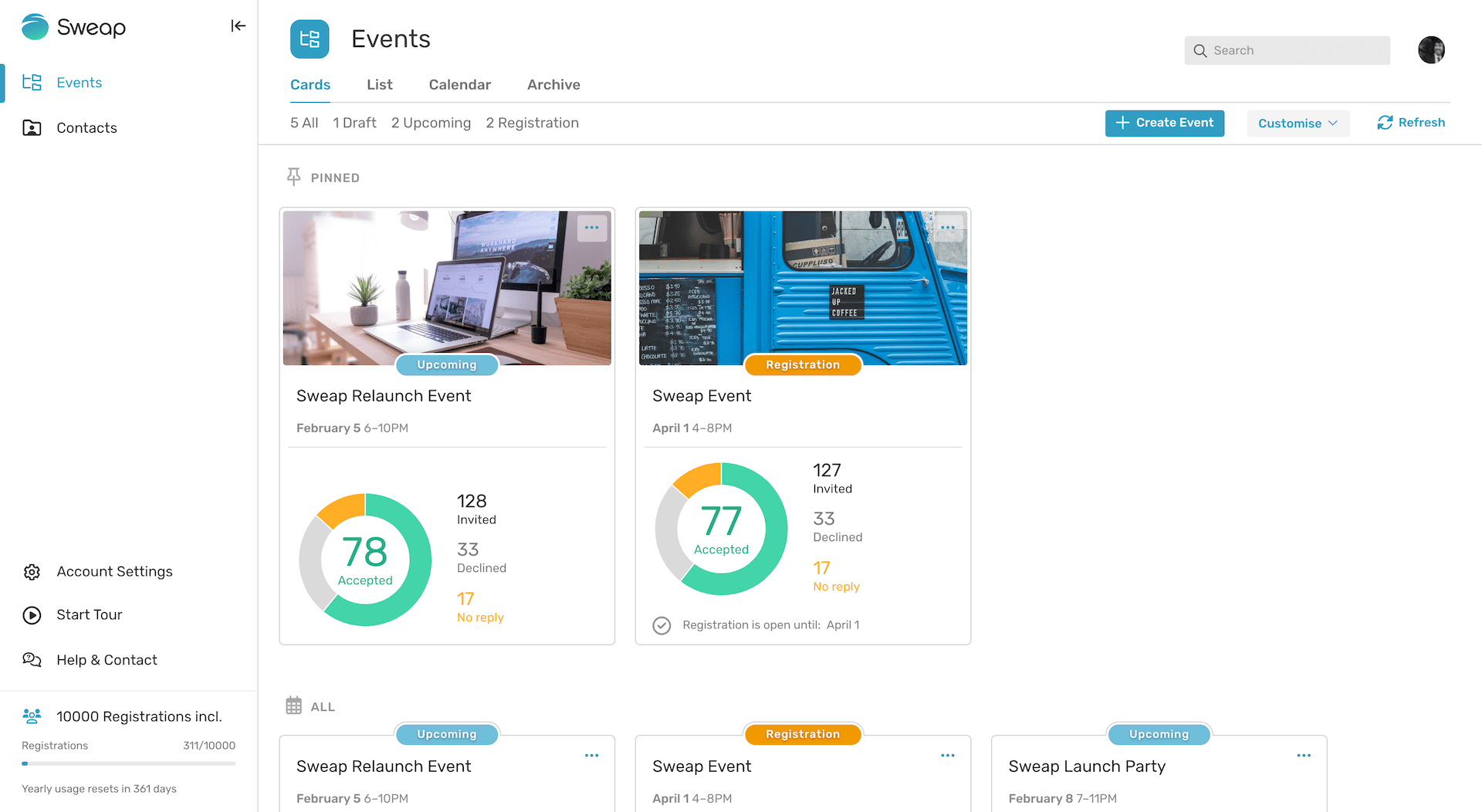 The menu sub-items, such as categories, your key figures and your action buttons can now be found above your editing area. Sweap's clean interface helps you to quickly grasp the most important things and work efficiently!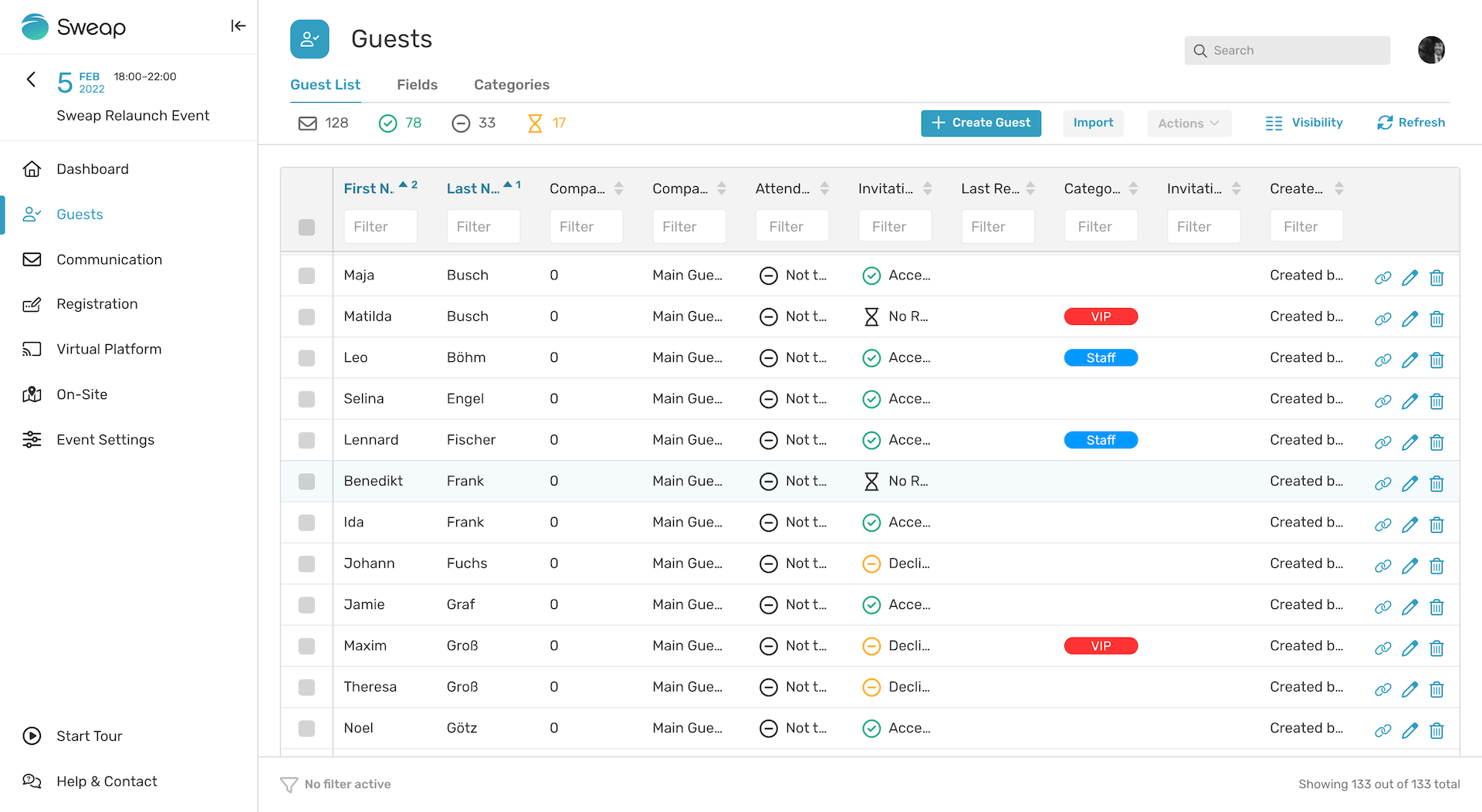 By the way: Attributes was too complicated for us. That's why this section is now called "Fields".
New contacts function
Now you can manage your contacts in Sweap and keep an overall view of their participation performance to build stronger relationships through your events.
Create any contact list and easily import it into your events. This eliminates the need to manage Excel spreadsheets. Create tags to add additional information to your contacts. These are very useful to list specific information, such as contact type or source.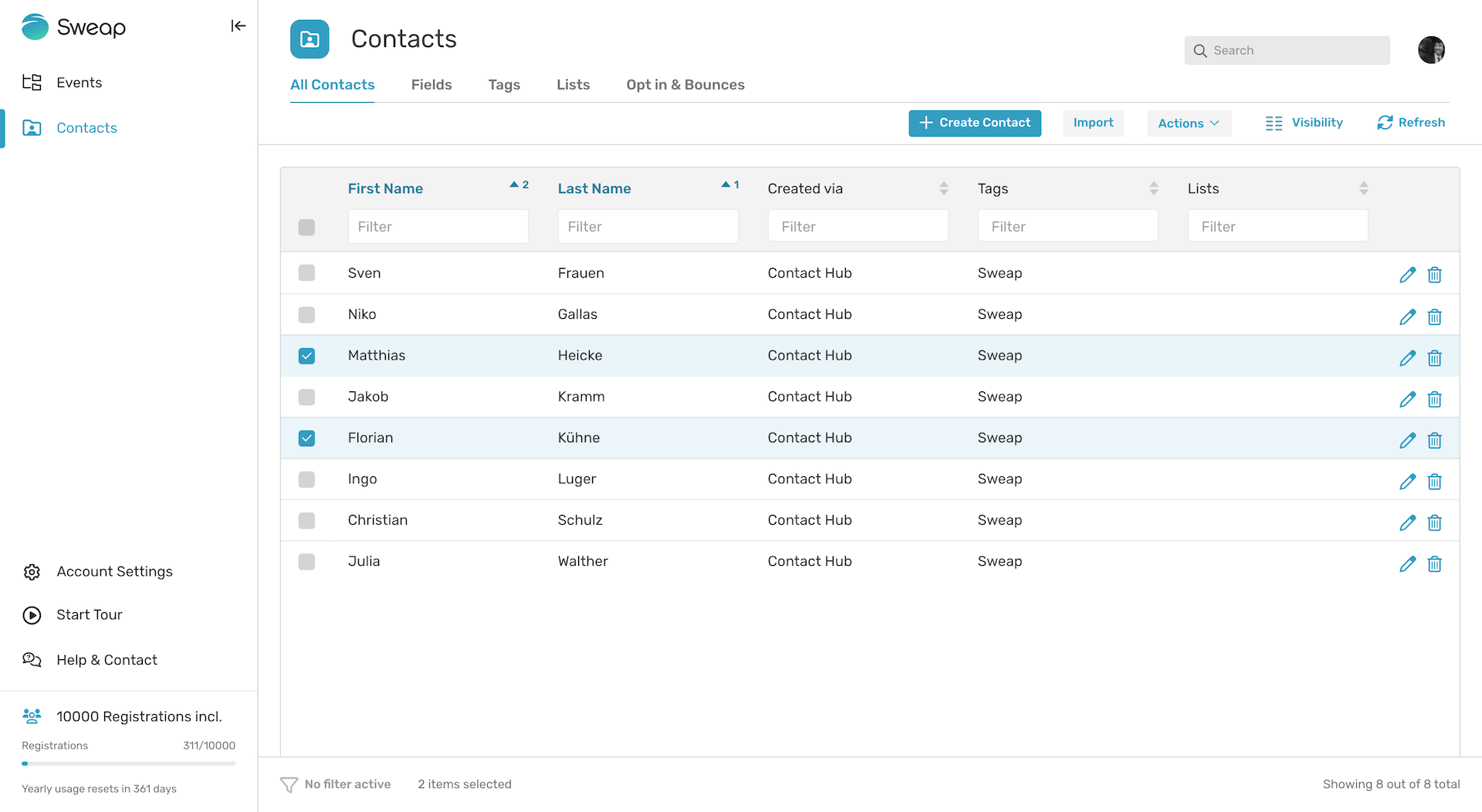 How contacts work can be found here.
MootUp: New integration in the Virtual Event Platform
Take your events to a new level. With MootUp's 3D Virtual Events in the Sweap Virtual Event Platform, you can now hold your event in a digital world, in a metaverse. Whether conferences, exhibitions, trade fairs, team events or product releases. Make your events digital and even with virtual reality.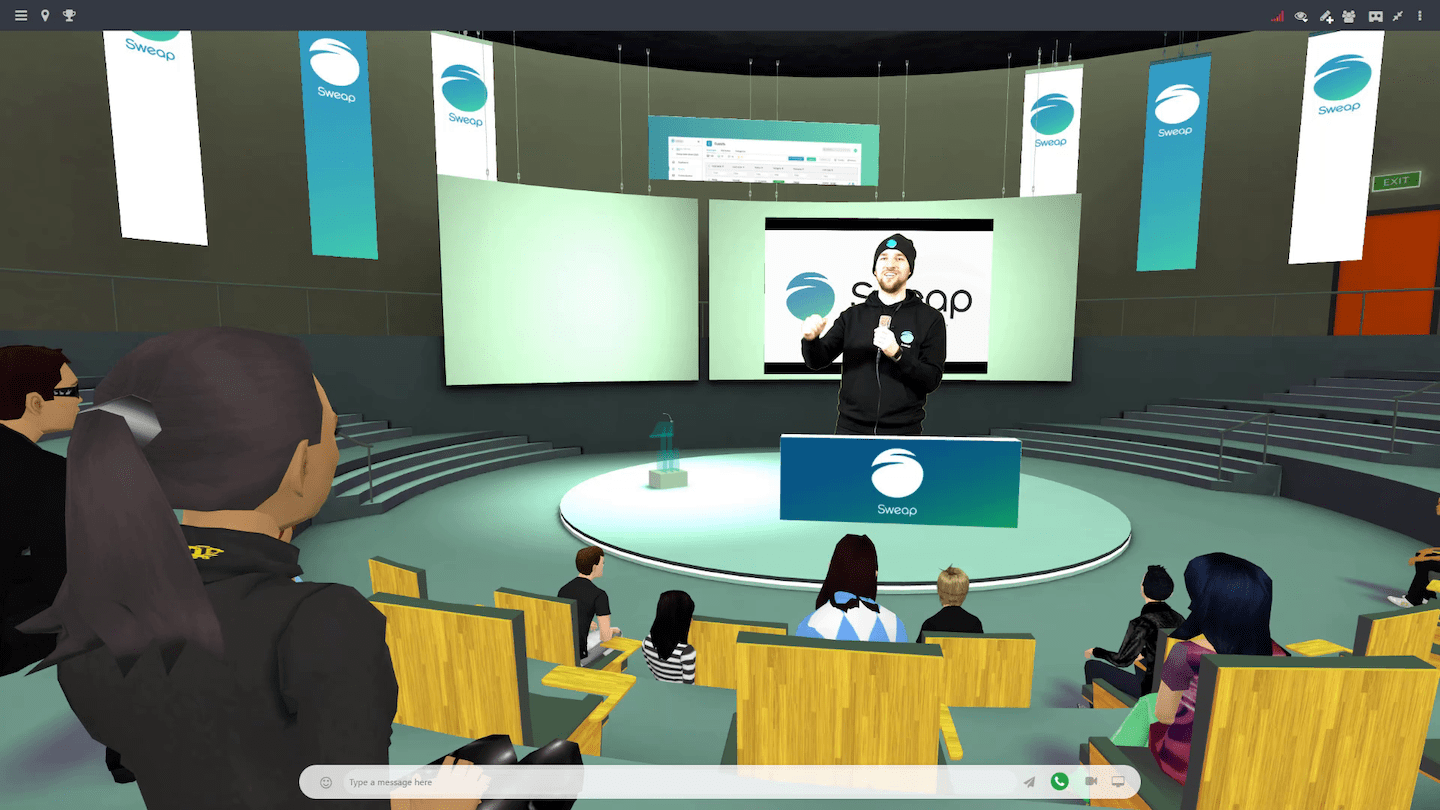 FAQ
Was MATE bought by another company or did MATE merge with another company?

No, we are making the change in entirely our own pieces.

Does MATE no longer exist?

MATE remains, but only in our company name. Otherwise, our product is called Sweap.

Do I need to have my contract adjusted?

No, our company name MATE Development GmbH remains. We only change our product name, logo and colors.

Can I continue to work as before?

Yes, because we do not change anything in the existing product and therefore in your processes, except for the new menu navigation.

Will there be a new domain I have to go to?

Yes, new product, new domain. However, you will still be able to access our mateforevents addresses, which we will redirect to the new domain. Please don't be surprised that we will also use mateforevents addresses during the first week of the changeover and they may still be visible.

Is there anything that is not so great?

No, we are doing everything we can to improve our product and give you the best possible output.